Mó da Praia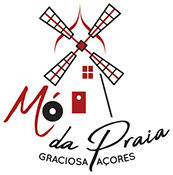 The windmill "Mó da Praia" ("Millstone of the Beach")
Windmills are a card-to-visit the island resulting from bygone times when the Graciosa Island was considered the "Azores Barn" for its extensive production of cereals.
In our days the mills no longer have their original use and many were being adapted as housing. The "Mó da Praia" was one of the last mills to grind cereals on the Island, as of the death of Manuel Frutuoso Vasconcelos Moniz (its former owner), on 18 February 2002.
The name given to the mill ( "Mó da Praia" ) refers to an indispensable artifact to the miller activity (the "Mó" – millstone) and also to its excellent location next to the only beach with sand in all the Graciosa Island, in the village of "São Mateus (Praia – Beach)", located at the foot of "Caldeira da Graciosa" (Graciosa Caldera).
Capacity: 5 adults

Beds: 1 full bed and 2 bunk beds
features: 
| | |
| --- | --- |
| ✓ Bicycle rental | ✓ Hydro massage column |
| ✓ Transfer airport to windmill | ✓ Wind protect terrace |
| ✓ support for the hiking | ✓ Barbecue |
| ✓ Visits to places of interest |   |
| ✓ Discount on rent-a-car |   |